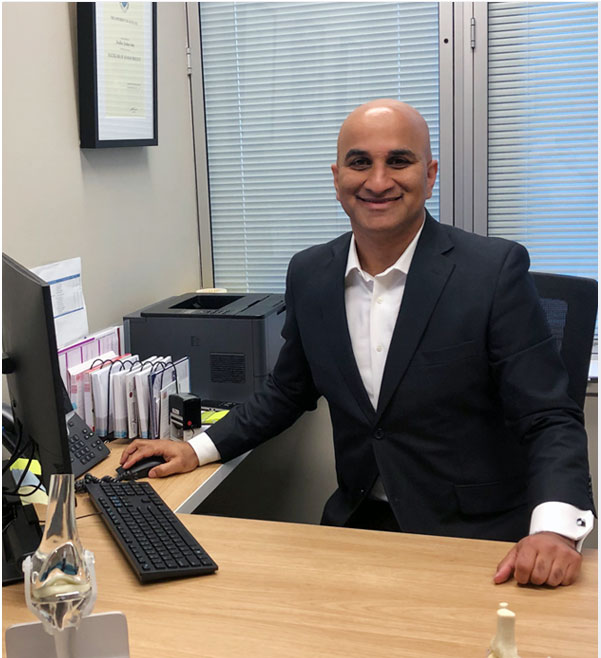 Dr. Anubhav Sathu
Orthopaedic Surgeon
Specialty: Orthopaedic Surgery: Lower Limb
Special Interests: Hip and knee reconstructive surgery, foot and ankle surgery
Practices at: Mater Hospital Brisbane, Mater Private Hospital Brisbane, Mater Private Hospital Redlands
Biography
Dr Anubhav Sathu is a New Zealand trained Orthopaedic Surgeon, who admits patients to Mater Private Hospital Brisbane and Mater Redlands, in addition to working at Mater Hospital Brisbane.
He has 15 years' experience specialising in lower limb orthopaedics
Dr Sathu completed his medical degree at the University of Auckland in 2002 and subsequently was accepted onto the New Zealand Orthopaedic training programme, completing his training in Dunedin, Hamilton and Auckland. He became a Fellow of the Royal Australasian College of Surgeons (Orthopaedics) in 2013.
He has further completed 2 years of lower limb sub-speciality fellowships in the UK and Australia. In 2014 he completed the Exeter Primary and Revision Hip Replacement Fellowship at Exeter in the UK and then went onto complete a 6-month Hip and Knee reconstructive surgery fellowship in Sydney. Finally he successfully completed the Brisbane Foot and Ankle Fellowship with Dr Terry Saxby, Dr Ben Forster, and Dr Michael Lutz in 2015.
His main areas of interest include:
Hip Replacement, including Anterior Hip Replacement Surgery
Knee Replacement surgery
Hip and Knee Arthroscopic Surgery
Foot and Ankle Surgery
Sports Injuries
Dr Sathu has been involved in research and teaching throughout his training and fellowship and is a published author in orthopaedic texts and journal articles. He is currently involved in active research at the Mater Hospital Brisbane as well as the education of medical students through to registrars and fellows in orthopaedic surgery.
Dr Sathu can see new private patients within two weeks of referral.
Dr Sathu can see patients for Intermediate Surgery at Mater Hospital, Brisbane
In his spare time Dr Sathu enjoys skiing, soccer, books on military and political history, and spending time with his young family.
07 3010 5764

[javascript protected email address]
Consult Rooms - Dr. Anubhav Sathu
Mater Private Clinic

Fourth Floor Surgery
Suite 4.10, Level 4
550 Stanley Street
South Brisbane
QLD 4101
Get Directions

Redlands Specialist Suites

16 Weippin Street
Cleveland
QLD 4163
Get Directions